It's time to check Dog Sledding off your bucket list!
Visualize yourself behind a team of spirited sled dogs mushing along blue-tinted, snowy ridges with silent, shrouded mountains in the background. This experience pulls at the heartstrings of every romantic outdoors person looking for an authentic wilderness adventure.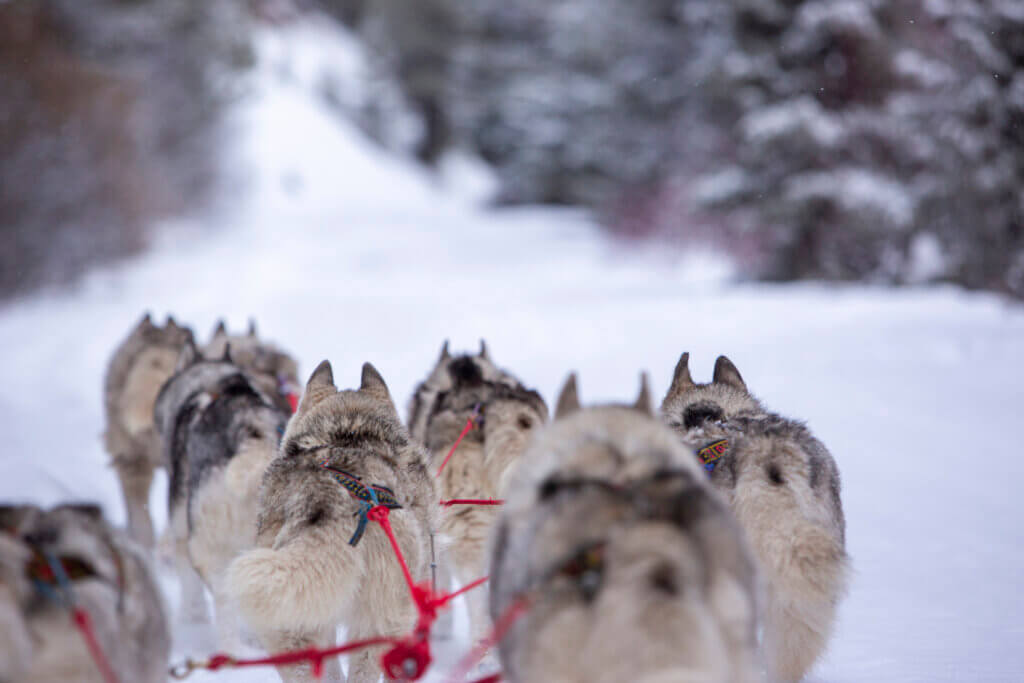 When you arrive at the meeting point just a short drive from the ranch, you will be greeted by your experienced mushing guides, and their sled teams. With the excited anticipation of the dogs piercing the air all around you, your guides will then explain the basics to mushing as well as safety procedures, and make sure everyone is warm & ready for their winter wonderland excursion.

Once geared up & situated on the sled, with everyone ready to run, our guides will pull the anchors and you will immediately get a rush of adrenaline coursing through you, as the entire sled team simultaneously take off with a burst of pent-up energy heading off into the wild. The dogs mostly take it from there, knowing the trails like the back of their paw, they need little instruction from their musher. Once you are off, it feels like you are seemingly flying through the wilderness, often enjoying soft flurries of snow swirling around you as you take in the majestic beauty of it all.

Guests have a few options in terms of how they would like to experience the adventure, all of which are equally exhilarating in their own right. These options include nestling into the sled itself with a cozy blanket, riding behind their musher standing on the sled runners, or sometimes extra adventurous guests even opt to try their hand at driving their own single sled team along side our experienced guides! Most guests opt to ride as a couple, with one in the sled, and one on the runners… often swapping experiences half-way.

Due to the nature of this experience, warm winter clothing & lined footwear with reasonable traction is encouraged. We also keep extra snow parkas, Kenetrek Boots, hats, gloves, and hand or toe warmers on hand, for complimentary guest use to keep you warm on all of your winter adventures!

Rides are approximately 2 hours long, and are offered three times a day. A fee of $450 per sled, single person; or $775 per sled, two people will be added to your invoice. This is a popular activity and we recommend advance reservations. Guest cancellation within 24 hours: full price.