Frontier Skills at Logging Camp
Archery | Hatchet Throwing | Crosscut Sawing & Branding | Fire Building | Slingshot
Our treasured corner of Montana was literally put on the map over 200 years ago when Lewis & Clark forged their way up and over Lost Trail Pass and through our valley. Adding to a rich history of indigenous people who made this wilderness their home, homesteaders soon began to settle and a vigorous logging tradition was established to supply the burgeoning mineral industry with timber for mine frames and smelters. It took some fortitude and a unique set of skills to thrive in this frontier – here is a chance for you to see how you might have fared! Spend a little time at the Logging Camp connecting with your inner lumberjack!
Hour-long Logging Camp sessions are available daily at 10 a.m. / 1 p.m. / and 3 p.m. Please arrange your session with an Activity Coordinator.
---
Archery
Arrive to the ranch an archer and leave a toxophilite, one who is fond of or an expert at archery. Test your skill and accuracy at our range that offers several targets and stands at various distances.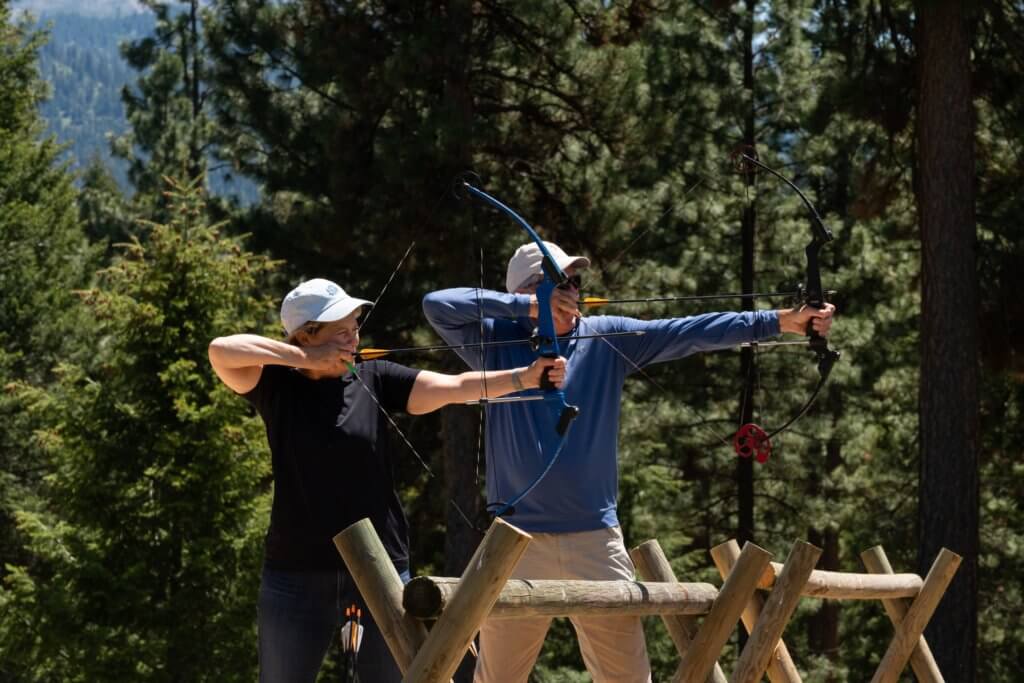 Hatchet Throwing
It's the latest craze – channel your inner-lumberjack and satisfy the primal urge to throw sharp objects! State of the art hatchets and a big sky with plenty of elbow room deliver an unanticipated thrill!
Crosscut Sawing & Fire Branding
Before chainsaws were motorized, it took a lot of elbow grease to saw down a tree across the grain. Flex your frontier muscles with traditional tools as you work up a little sweat cross cutting your own piece of Montana timber to bring home. Round out your lumberjacking experience by fire branding your wood piece with a TCR brand.
Firebuilding
Relive your scout camp days trying to get a fire going with a simple bow & drill and a whole lot of elbow grease! Successful fire builders earn a place on our 'Wall of Flame!"
Slingshot
Perfect your marksmanship skills under the guidance of our Activities team. Once you have honed in your sharpshooter accuracy, test your newfound skills as you slingshot your way through our self-guided target course.