…& so much more!
Self-Guided Activities | Facilities | Equipment
More fun around the Ranch!
Wondering what to do in-between your scheduled adventures, or just want to keep it low key this go around?
Try one of these easy going, self-guided activities!
Access to all facilities and equipment are included complimentary in your nightly rate.
Please speak with an Activity Coordinator to arrange for use.
Stave Puzzles
Triple Creek Ranch is proud to be in partnership with Vermont based Stave Puzzles. For over 40 years, Stave Puzzles has been handcrafting wooden jigsaw puzzles, each custom piece meticulously hand cut from cherry wood. Irregular edges, special cutting features and whimsical silhouette puzzle pieces are trademarks of these notoriously clever works of art that provide endless hours of entertainment. As a Relais & Chateaux luxury resort partner with Stave, we display our customized puzzle boards in the Activity Center and the Rooftop Lounge. Upon completion, each puzzle is replaced with a new challenge. These are no ordinary puzzles and be warned, Stave Puzzle solving is habit-forming! Already Stave obsessed? Request one for your cabin!
Games & Movies
Feel like staying in? Grab something fun from our complimentary Media & Game Library! Available in the Activity Center.
Shopping
Have fun browsing our Gift shop with items including logo wear, fly fishing gear, stylish western clothing, cowboy hats, leather accessories, fine jewelry, and more!
Lawn Games
Options to while away a sultry summer afternoon include an old-school game of horseshoes at the pit by the corral, some casual cornhole, a badminton match, or a leisurely round of mountain bocce ball. All equipment is available in the Activity Center.
Tennis & Pickleball Court
One of the best views on the ranch is from our mountaintop court! Challenge your partner to a tennis or pickleball match and then cool off with a dip in the pool just a few steps away. Racquets, paddles, and balls are available in the Activity Center.
Folf | 9-Hole Disc Golf Course
Introduced in Summer 2018, this 9-hole frisbee golf course is part of our continually expanding complimentary activity program. The course meanders through the forest and offers a pleasant way to explore the ranch. Disc sets and score sheets are available in the Activity Center.
Stage Route Fit-trail
The stagecoach stopped running on this road some time ago, but guests can channel the frontier spirit as they make their way through our Stage Route Fit-Trail system. Twenty exercise stations span a half-mile stretch for a comprehensive workout in a bucolic setting.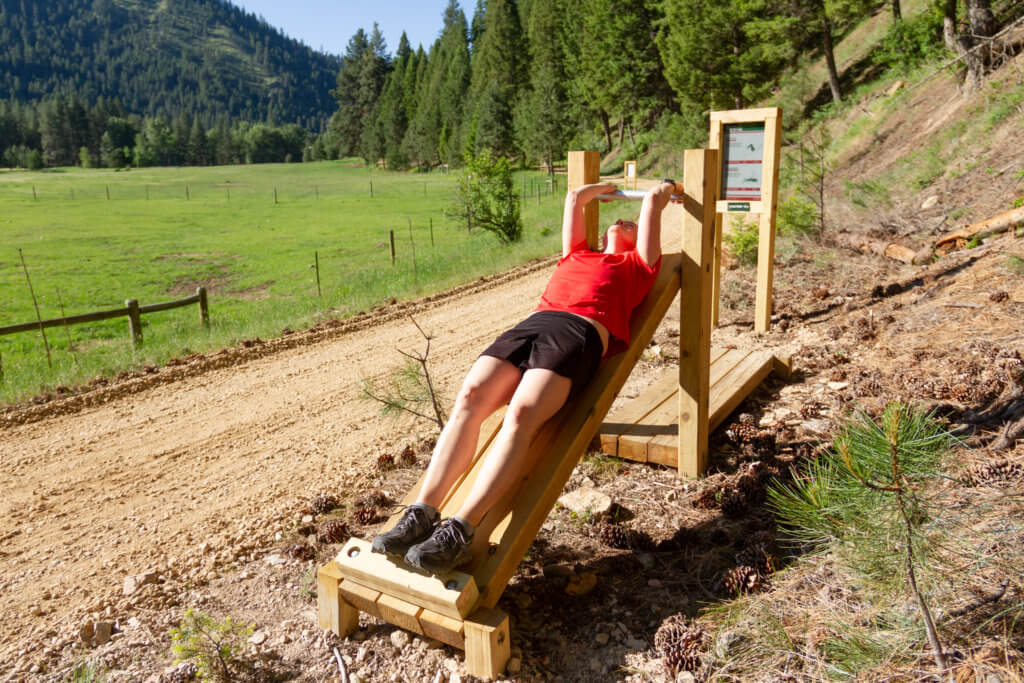 Swimming Pool
The heated outdoor pool is ideal for a few lazy laps or a refreshing plunge after a day in the saddle! Open from June through September and maintained at 84º F, the new pool area now features a hot tub and expanded lounging area for basking in the Montana sun.
Dry Sauna
Introduced in the summer of 2018, the Dry Sauna is part of our pool area renovation. The health benefits of a dry sauna experience include improved circulation, respiration, immunity and most importantly – relaxation. Designed and built with customary attention to detail, the sauna is a welcome addition to our wellness offerings.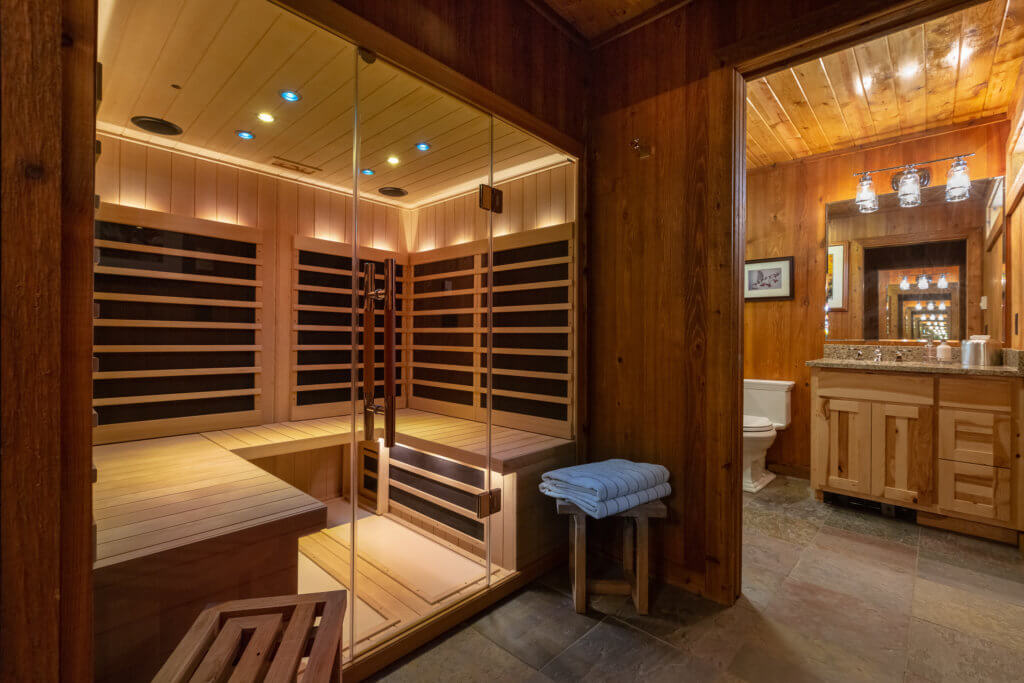 Fitness Center
Located next to the swimming pool, the Fitness Center is open 24 hours a day and features a selection of cardio machines, free weights and a single stack gym.
Fly-Fishing on Stocked Trout Ponds
Montana has long been a fly fishing mecca, calling to anglers of all skill levels who revel in the thrill of the rise. Our guests enjoy complimentary use of a full range of gear and equipment – rods, reels, flies, nets, waders and boots. There are three stocked trout ponds on ranch that guests can access at their leisure, and casting lessons are available for both beginners and those who could benefit from a refresher! With the purchase of a Montana fishing license (which we are happy to help you procure), guests may also borrow gear and venture to the Bitterroot River to wade cast.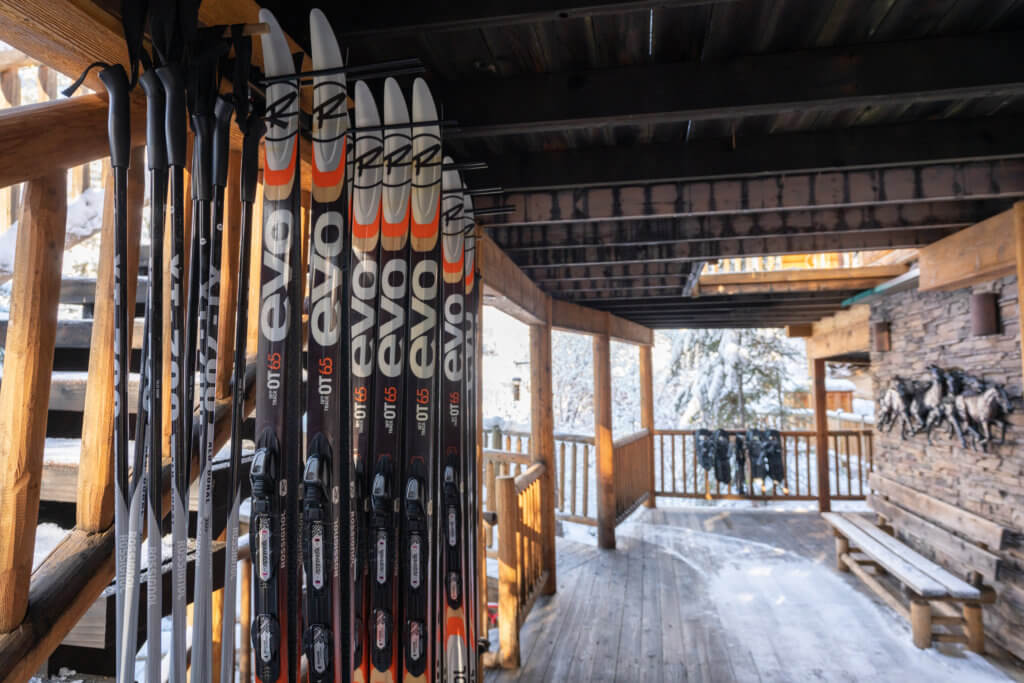 Winter Gear
Cross Country Skis and Snowshoes are available in a range of sizes. We also keep extra snow parkas, Kenetrek Boots, extra hats and gloves, and hand and toe warmers on hand to keep you warm on all your winter adventures!